I recently published a hockey equipment guide for kids, however I also wanted to do a full post for adult players who are new to the game. There are some tips and equipment recommendations that are different for adults vs children. In this post you will learn what equipment you need to start playing hockey.
Hockey Equipment Guide for Adults
Hockey Equipment Recommendations
Helmet
See our helmet fitting guide for more details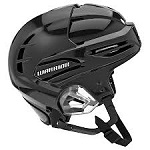 A helmet is very important, you need to protect your melon. As an adult player you have a longer way to fall and more weight pulling you down. Believe me, when you're learning to play you will fall, so get a good quality helmet!
Visor, Cage or no cage?
See our cage / visor guide for more details
You are not required to wear any facial protection. You COULD just buy a helmet and that's it, however I recommend a full cage. Your options are
Just a helmet
Helmet with a visor
Helmet with a full cage
Or a helmet with the gawd-awful cage visor combo (not a popular option)
I play in two leagues and every month or two I see someone leave the ice bleeding because they only wear a half visor or no mask at all. In the lower leagues you will see a lot of stray sticks and pucks as not everyone has the best control. If you don't have a good dental plan I recommend a full cage.
Neck Guard – Optional
The neck guard protects your neck (go figure). There is an off chance that a skate blade could contact your jugular, and that would not be pretty.
I will be completely honest, most mens league players don't wear neck guards. In the 10+ years I have played adult hockey I have yet to see a neck related injury, however it could happen. If you are a newer player I would suggest starting with one, just to be on the safe side.
Shoulder Pads – Optional

Most Men's leagues are non-contact and many do not allow slapshots. For this reason shoulder pads are not required in a lot of leagues. If you are a newer player (you will fall!) it is a good idea to get a pair, but if you are low on cash you don't have to buy them right away.
Personally I have not worn them since minor hockey and I know a lot of adult players don't wear them either, but it's up to you to make the judgement call on whether to get them or not.
See our Shoulder pad fitting guide for more details
Elbow Pads

I highly recommend a good pair of elbow pads. When you are learning to skate you will fall a few times, and usually when your feet fly out from under you your elbows take the brunt of the fall. A good set of elbow pads will make it much easier to get up and keep practicing
See our elbow pad fitting guide for more details
Gloves

See our hockey glove fitting guide for more details
I'm a big fan of gloves, my mitts need to be comfortable and flexible. Everyone has their own personal preference when picking out gloves, some want more protection (mostly from hacks and slashes from other players) and others want a lot of freedom.
When picking a set of gloves I have a simple test if I can give a thumbs up and a middle finger they are flexible enough for me 🙂
Hockey Pants
See our hockey pants fitting guide for more details
The pants protect you from the knees up to the lower back. A good fitting pair is important because if you get a pair that is too big they will always be sagging and hanging from your hips, and if you get a small pair you will look like a new born baby giraffe (plus you will have some vulnerable exposed areas that are not fun to get hit in)
Shin Pads
See our shin pad guide for more details
The right sized shin pads are important, of all the painful areas I get hit, the most common spot is right where the shin pad meets the skate. If your shin pads are too small this area will be bigger and you will get hit there with pucks.
Skates
See our skate fitting guide for more details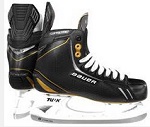 Skates are important, VERY important. When you are an adult, your feet don't grow anymore, so when you buy a pair of skates you want to have them for a while. If you buy cheap skates, you will replace them.
When you are looking for skates, don' get the cheapest ones. Get a pair that fit you properly, and are very comfortable. Cheap skates will be all bendy and not give you much support, which will hinder your skating abilities.
Jock
Jocks are important, they protect your twig and berries and also keep your hockey socks up. Personally I like the new style compression shorts with the Velcro. Some older guys wear a garter belt style jock, but that's old school.
Hockey Sticks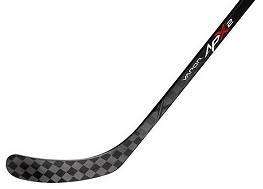 A hockey stick is important, you will soon form a bond with your stick, you will love it and enjoy taping it, flexing it…looking at it, but it doesn't have to cost you $300!
For new hockey players I recommend an affordable stick, heck even start with a wood stick. A good carpenter wont blame his tools, and a $300 stick wont make you any better. When you first start out you will score just as many goals with a wood Sher-wood 5030 as you will with the newest CCM Carbon fiber puck destroyer 9000.
For more on hockey sticks check out our hockey stick guide for beginners
Hockey Accessories
Below is a list of extras you'll need, these range from jerseys, socks, tape, water bottles, etc. If you don't have a local hockey shop nearby you can grab all these (and maybe some more deals) at Hockey Monkey
Mouth guard
This is another optional purchase for adult players. You don't need a mouth guard to play, but they can protect your teeth, and studies claim they can help prevent concussions. Personally I don't know many men's league players that wear a mouth guard but if it makes you feel a little more comfortable on the ice then go ahead and pick one up.
Practice Jersey

You won't be making a team any time soon, so you will need a jersey to practice in. To make things easy on everyone get one white, and one black jersey, yes it's boring but it makes it easy to split teams when you play pick-up hockey. (aka shinny, stick and puck, drop-in, and rat hockey)
You can get a cheapo practice jersey from your local sports store, order one online, browse eBay for a cool used hockey jersey (maybe from your favourite NHL team or an old Olympic jersey)
Hockey Socks
Hockey socks are there to keep your legs warm, keep your shin pads in place, and provide a little extra protection against hacks, slashes and skate blades.
Hockey Bag
This is what you cart all this equipment around in. There are a variety of sizes and shapes available. Some bags come with lots of pockets, some bags don't have any. Personally I like my bag to have a few compartments so I can keep my stuff organized.
Wheels or no wheels
Men don't use hockey bags with wheels, o.k some men do, but if you're getting a bag for the first time I recommend no wheels. A bag with wheels is heavier, bulkier, and it's hard to stuff into your trunk. The bag in the picture to the right is the one I use and I find it is the perfect size, has enough compartments, and is durable.
Where to Buy all this stuff
The best place for new players is at a hockey shop, however a lot of people in the states won't find a store with a good selection. If you are one of these people I recommend any of the stores below. Please read our detailed fitting guides first so you have an idea of what to order, remember you can return most items that don't fit well.
Recommended online stores
What Else Do you Need?
We have gone over some of the essential hockey equipment that you need, but there are also some recommended hockey accessories that you should probably have in your bag (in fact some are a must). You can read more in our full hockey accessories article.
Hockey Equipment Questions
How much will a full set of hockey equipment cost?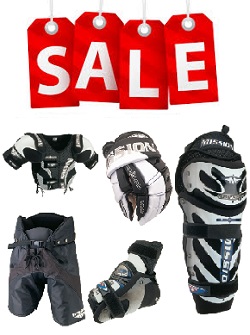 For a full set of hockey equipment you have a few options
All new – $500 – $1000 depending on what sales you find
New and Used – $300 – $500
Mostly all used – $200 – $300
You can save quite a bit buying used equipment, or not buying it all at once. Stuff like pants, shin pads, elbow pads and skates don't need to be bought brand new, especially if you are just starting.
Your skates should cost you the most, then probably your helmet and gloves.
Do I need to buy everything at once?
Absolutely not. All you really need to start playing are skates and a stick (and outdoor ice) If you want to play some pick-up hockey you will probably need skates, gloves, a stick and a helmet.
Learn to Play Hockey Online – Join The Pond for easy to follow video courses, challenges, and a private social group to quickly improve your hockey skills at home
How can I start playing hockey?
Check out our article on how to start playing hockey as an adult
Join our online hockey community
If you're looking for a great group of hockey players to talk hockey with and ask questions join us over at r/hockeyplayers on reddit!