Cage, visor or no visor? This is a question that many hockey players face. After minor hockey it is up to the player to decide which type of protection they use (although some adult leagues do require cages). In our previous article we provided a guide to buying hockey helmets, in this article we will talk about the most common helmet accessories, the cages and visors.
If you are looking for a cage or visor you first need to ensure it will fit your helmet. Hockey Monkey has a very handy cage / visor compatibility chart that you can use to see which visor or cage will fit your helmet.
Popular brands of Cages and Visors
This segment is dominated by Bauer and Oakley, with a small but persistent presence from CCM and Warrior. There are several non-typical brands, such as Hejduk sport, Tron, and Avision.
Why wear a Cage or Visor?
Cages, visors, and combination shields (which are full face shields with hard plastic or steel extended under the chin for full face protection with the visibility traits of a clear visor) are, of course, designed to protect the eyes and face from errant sticks and puck impacts, preventing cuts and broken bones. Very often they are mandated by leagues and especially for players under the age of 18, most governing bodies will not allow you to play without a certain level of facial protection.
Note from Coach Jeremy: Speaking from personal experience I see split open lips, noses, and eyebrows a few times a year from players who wear no facial protection or just a visor. I recommend a full cage for anyone starting hockey as newer players have less control over the puck and their sticks.
Hockey Cage or Visor
One of the biggest choice for new players is Hockey cage vs Visor. I will quickly break down the pro's and con's of each
Hockey Cage
Advantages of a Hockey Cage

Full protection ensures you won't need dental work, or stitches
Required in some leagues
Added confidence to muck in the corners without fear of being hit

Con's of a Hockey Cage

Heaviest option
Can impair vision (although some won't even notice)
May be uncomfortable for some
Visor / Shield
Advantages of a Visor / Shield

Improved visibility
Less weight
Provides some protection vs not wearing a cage or shield at all

Con's of a Visor / Shield

Does not offer as much protection vs full cage
Can fog up
Can get scratched and worn over time (especially if not protected inside hockey bag)
Price Range of Visors and Cages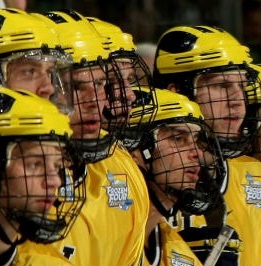 A brand new face mask or "cage", a grid of metal shaped to the face, can be had for as cheap as $25 brand new for a junior size, $35 for a senior size. This style of mask can be as expensive as $70 for a mask, usually a high end material such as Titanium that is stronger and lighter than the usual steel.
A visor, also known as a "half shield" runs from less than $30 to as high as $80, usually depending on the shape, size, and style of the visor, as well as options such as tint or attachment points.
A combo cage is pretty much going to run about $60, it doesn't really offer a range of price.
Difference in material / features among price ranges
Cages are usually steel, but currently there is one Titanium option, offered by Bauer. Titanium, stronger and lighter than steel, offers a more comfortable option as well as extra protection. The biggest difference in the retail cage offerings are the size and shape of the steel.
Some of the most common and popular cage models are the CCM FM580, Bauer Re-akt and CCM Resistance. Players like the longer, straighter look over some of the more "bubbly" appearances of the Bauer cages, as well as the option of white, black, or chrome based on the player's preference.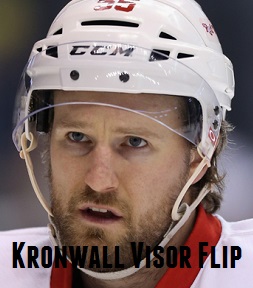 When it comes to visors, they are all made of the same or similar materials and the difference in protection is mostly based on size. For obvious reasons, a larger visor will help to protect a larger part of the face when it is fitted properly to the helmet.
Some visors, such as the Hejduk sport, offer options such as a "cutout" area where the helmet meets the visor, at the temples, and care should be taken to make sure such unusual designs are legal under the governing body. Some of these visors may find themselves outside the rules. Beyond that, the biggest difference is whether the visor attaches at the forehead, or only at the temples.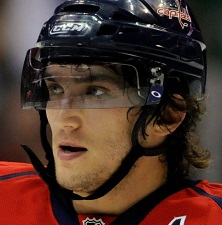 Three point visors, are a more stable attachment and will not "flip up" like some NHL players are known to do (Nicklas Kronwall) and will not move around as much. However, the extra hardware above the eyebrows can often make them worse for ventilation, and allow fogging of the visor. Some visors are tinted, which is good for a player who may have light sensitivity, or for players such as Alexander Ovechkin, who believes his "smoked" visor helps hide where he is looking, which he believes some goalies use to help anticipate where the puck is going.
Combos, currently, are only offered from Bauer and Avision, and the general design is fairly similar. Avision combos have a variety of color options for the outer hardware, and also allow the visor portion to be changed or switched out if it becomes too scratched up or it becomes harder to see. The Bauer combos come in two varieties, one with a full plastic, including the lower jaw protection, and one where the lower portion is made of typical steel cage attached to a polycarbonate visor.
How Should a Visor and Cage Fit?

For a half shield, the further it sits away from the face, the better. This allows airflow to keep the visor from fogging up, and helps to make sure the visor doesn't cut the cheek or nose of a player after a check, fall, or puck impact.
The visor should be kept tight on the screws, attached with two screws on each side of the temple, to make sure it sits straight on the face. The top of the visor should line up directly with the bottom of the helmet in the front, leaving room for airflow but no gaps where sticks can get through.
Shields and combos should fit snugly on the chin, and not "hang" despite the prevalent style. Each helmet should have "J clips" attached at the temples, and the helmet or cage should slide easily within them. This prevents an impact from smashing the cage or combo into the players face. While it would still prevent most injuries, it can still cut the face and possibly even break the nose if not properly secured in the J clips. If sweat on the chin cup is a problem, a small hole drilled through the middle can help the problem of pooling sweat.
How to Size a Cage or Visor
Cages – A cage or combo can be used a size smaller than a helmet, such as a large helmet and medium cage, but the shield should not be a size up from the helmet. Most brands of cages and shields can fit on the helmets of their competitions, so mixing and matching is an option.
Visors – Visors typically run as one size fits all
I recommend checking the cage / visor compatibility chart before purchasing.
Expected lifetime
A cage can be used for quite a long time, as long as it doesn't begin to rust. A diligent owner who takes the helmet out of the bag to sit and dry after each skate can feel safe in a cage for over 10 years. Care should be taken to make sure rust and corrosion aren't setting in on the joints, though.
Visors and combos probably shouldn't be used more than 5 years, as the coating will wear and crack, scratches will emerge, and the plastic itself will slowly weaken, just like a helmet.
Cage and Visor Maintenance

A cage is very low maintenance and just needs to be brought out of the bag to dry to prevent rust and corrosion. Attachment screws and snaps should be checked for corrosion every few months. Screws also tend to come loose, or fall out over time. It is recommended to check screws every once in a while to ensure they are tight.
Visors will need to be cleaned often. While there are many hockey specific products to clean, wipe down, and buff visors, one of the most common products, used even at the pro level, is Pledge furniture polish. The polish does a better job of keeping a clear, clean visor and comes highly recommended from players and refs at many levels.
Visor and combo users are also highly encouraged to wrap the helmet in a helmet bag, to prevent the visor scratching itself on random things in the hockey bag as it's moved. A pillow case or tied up T-shirt accomplish this task fantastically.
Recommendations for Visors and Cages
Because of the careless nature of players and the unpredictable nature of pucks, cages and full facial protection are highly recommended for all players. It is important to note that USA hockey insurance claims cannot be made for mouth or facial injuries for a player who sustains an injury while not wearing a cage. However, if you feel you have the confidence and awareness to wear a visor, or you are a referee and are prohibited from wearing a cage, a visor is also highly recommended in any case.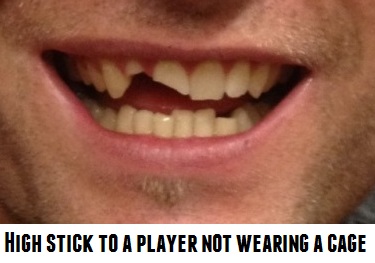 Your teeth can be replaced after very painful surgery and difficult recovery, and the same can be said for a broken jaw or cheekbone. But if a puck strikes your eye, it may be gone forever. For example, Marc Staal took a puck almost directly to his eye without a visor this past March. Staal was forced to miss the remainder of the season and there were concerns about whether his career was over.
Steven Stamkos took a very similar slap shot to the face in the 2010 playoffs, but because he was wearing a visor when he was hit, was able to return to the very same game after getting a cut stitched up and switching to a cage for the rest of the game.
Where to Buy to Save Money
Thanks to fitting charts and compatibility charts it is pretty easy to shop for cages and visors online and find something that will fit your helmet properly. The advantage there is you will have a much bigger selection! (recommended stores below)
If you buy used you want to make sure there is no damage. Look for rust and bent bars on cages, and scratches on visors.
You can also look for dead brand options such as Itech, which produced a lot of cages before the company ceased to be, taken over by Bauer a few years ago. Many of Bauers current retail offerings are based on itech offerings, with no change but the branding, these may be found online as well.
Recommended online stores