Why do you need Shoulder Pads for Hockey?
Shoulder pads have a few different purposes. They cover key areas on the upper body including your shoulder, collar bone, spine, sternum, ribcage, and bicep. They do this by using a combination of mid- and high-density foams, as well as plastics in some key areas.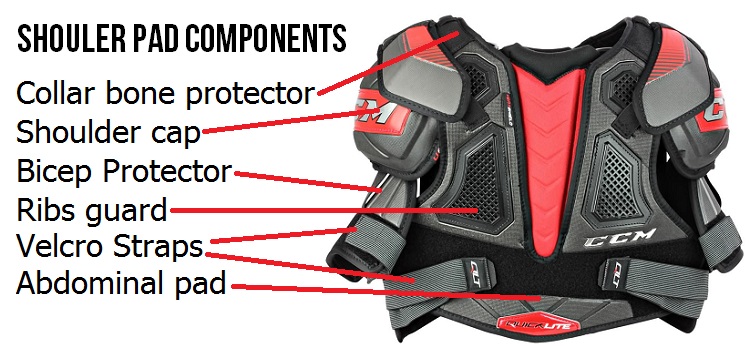 Popular brands
The most common brands are:
Bauer (Supreme, Vapor, Nexus)
CCM (, JetSpeed, QuickLite, Super Tacks)
Warrior (Alpha, Dynasty)
Easton (now owned by Bauer – Stealth, Synergy)
Other companies like Graf, STX, Winnwell, Powertek, Tron, DR, Sher-Wood, etc. also make shoulder pads, but this market is changing rapidly. Easton was recently acquired by Bauer and will likely be discontinued, while Graf is going out of business in North America and may only be found on clearance. Brands like Tron and Powertek are entry-level "budget brands." Sher-wood is best known for its retro style, minimalist shoulder pads, but makes good modern ones as well.
Shoulder Pad Pricing Explained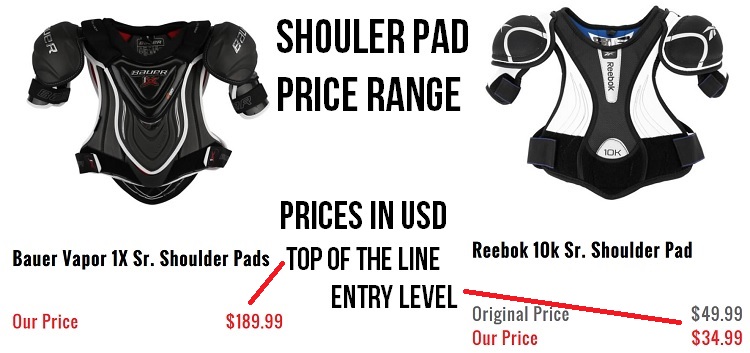 The typical price range for new, non-clearance shoulder pads is approximately $45-200.
Cheap shoulder pads typically have basic molded shoulder caps and bicep pads, with thin medium-density foam everywhere else. They offer some protection, but cannot take much abuse.
As the price increases, additional protective features (typically made of high-density foam and/or plastic inserts) are added, such as spine and sternum guards, collar bone protectors, and improved bicep guards. High-end shoulder pads maintain or improve this level of protection, while also incorporating newer materials that reduce weight, increase protection in key areas, or improve drying time.
Shoulder Pad Sizing & Fit
There are several aspects to the fit of a shoulder pad. It should sit so the shoulder caps rest on the curvature of your shoulders, and should also cover your rib cage and collar bone. Don't worry if it doesn't cover your entire stomach – this would decrease mobility and be quite uncomfortable to play in. Remember that your hockey pants will come up to the top of your hips, removing much of this gap.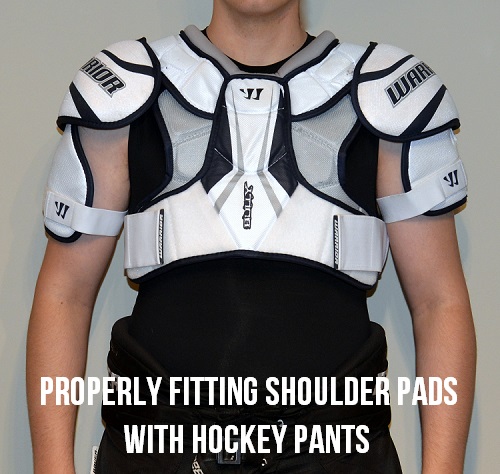 Signs that your shoulder pads are too big:
Neckline droops, exposing collar bone
Pulling neckline to one side can expose shoulder through the neck hole
Shoulder caps look droopy, centered on the deltoid muscle rather than the shoulder
Bottom edges of pad extend well past the rib cage
Signs that your shoulder pads are too small:
Neckline interferes with comfort and mobility of the neck
Top of shoulder caps point directly upwards rather than outwards
Raising arms above head causes shoulder caps to pinch in towards face
Bottom edges of pad leave substantial amount of rib cage exposed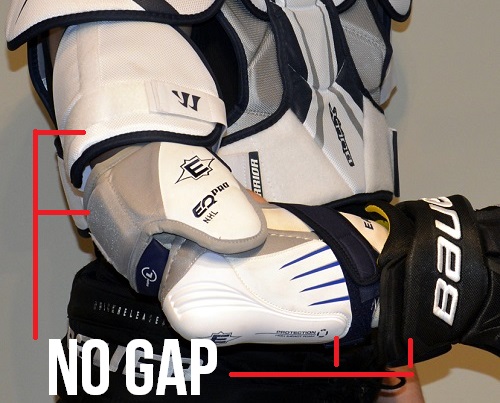 Borrowing the above picture from our elbow pad fitting article you can see the "gapless arm". With properly fitting equipment the should be little to no gap between the glove, elbow pads, and shoulder pads. If you have an overlap then something may be too big, and if there are large gaps than something may be too small.
Common personal preferences for Shoulder Pads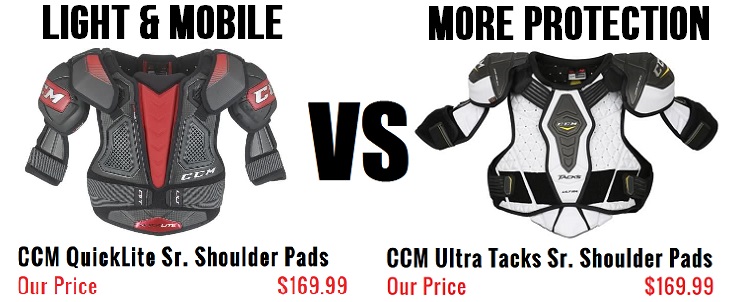 When a company offers at least two lines of gear, they typically offer one "light and mobile" line – e.g. Bauer Vapor or CCM QuickLite, and one "big, bulky, and protective" – e.g. Bauer Nexus or CCM Tacks. Companies offering one (or three) lines usually have something in the middle (e.g. Bauer Supreme or Warrior Dynasty). At the lower end, these distinctions are not as obvious but there are typically still differences in shoulder cap size. I would recommend trying on a wide variety of different pads to find the one that offers the best fit and mobility for the protection level you are looking for.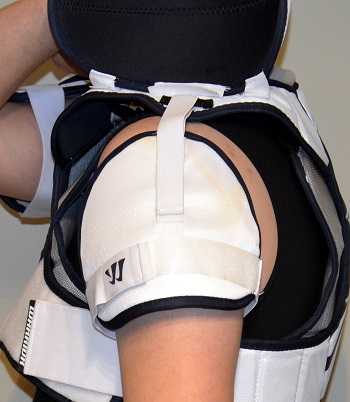 To adjust the fit, shoulder pads (excluding some low-end ones) allow the bicep pad to be moved up or down to accommodate different arm lengths. To do this, simply flip the shoulder cap up, exposing a velcro system which holds the bicep pad in place. Additionally, play around with different tightness settings for all the straps. Some players prefer a tight, locked-down fit for their pads, while others like having some expansion room for moving and breathing.
There are a few women's specific shoulder pads on the market. They generally feature shaped, molded plates covering the chest area, and an overall fit designed for women. Some women find these shoulder pads more comfortable, while others find them too restricting in movement, particularly when lunging forward due to the chest plates. In my experience selling hockey equipment, the split is about 50/50 preference between women's and men's shoulder pads for women.
Expected Shoulder Pad lifetime, general care & maintenance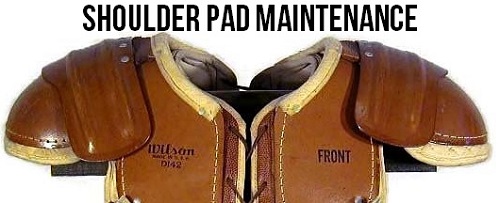 Because they usually don't experience many major impacts, shoulder pads can last a long time in recreational league hockey – 10 year old (or older) shoulder pads are not uncommon. However, the straps will wear out over time. This can include the velcro losing its grip, or the straps themselves bagging out. On most shoulder pads these problems can be repaired quite easily – with either a trip to your local hockey store, or through the DIY route by buying replacement straps/velcro online and sewing them yourself.
The other way many shoulder pads wear out is through breakdown of the materials from moisture and bacteria. As with most other equipment, an Under Armor-type base layer will help extend its lifespan by limiting the amount of sweat and dead skin that makes its way into the pad. Setting your equipment out to dry immediately after playing will also make a huge difference in stopping the materials from breaking down prematurely.
To wash shoulder pads (and most other gear), soak them in a bathtub with one full scoop of OxiClean for a few hours. You may need to weigh them down because they often float! Then simply rinse and set aside to dry in a warm, well-ventilated area. For a detailed video and article visit our how to wash hockey equipment article.
Recommendations When Buying Shoulder Pads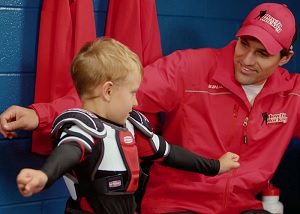 Youth hockey players are required to wear shoulder pads, children grow quickly and will need new shoulder pads every few years. Always check the fit before the beginning of the season.
For adult hockey players – although still useful – shoulder pads are much less critical than many other pieces of equipment – falling directly on your shoulder is far less common than landing on your elbow or butt. High-end shoulder pads can be great at what they do, but they aren't necessary for recreational hockey unless your league is very rough, or you like blocking shots with your chest. Players on a tight budget would do well to save money here to free up cash for more vital pieces of equipment such as skates. A regular price of around $60-90 is more than enough for the demands of the average recreational league and many seasoned rec hockey player opt to not wear shoulder pads at all.
Should I buy used Shoulder Pads?
Buying used shoulder pads is a great way to save money. Make sure both bicep guards (and the belly flap, if applicable) are attached, and all straps are intact with good working velcro.
Buying Shoulder Pads Online
Not everyone lives down the road from a hockey shop. If you're shopping online check out the shoulder  pad sizing guides. Each brand fits differently and if you can measure yourself before ordering and compare to the sizing guides you are much more likely to get a proper fit. I always recommend visiting a store if you can because nothing beats trying on the gear, but if that's not an option check the return policy when you buy online. Sometimes you can get a hassle free 30 day window to return an item, just in case it doesn't fit right.
Recommended online hockey equipment stores

Shoulder Pad Sizing Chart (CCM)
For more sizing charts from other brands visit this sizing chart page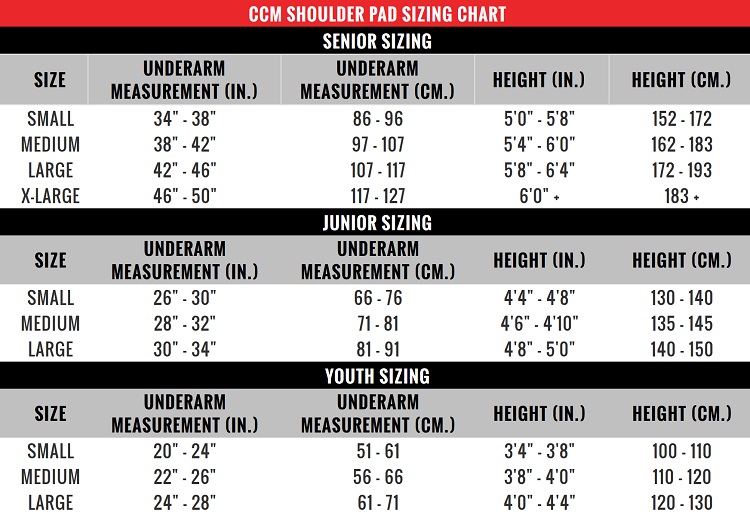 I always recommend visiting a store if you can because nothing beats trying on the gear, but if that's not an option check the return policy when you buy online. Sometimes you can get a hassle free 30 day window to return an item, just in case it doesn't fit right.
Shoulder Pad Fitting Video
Huge thanks to Steve G Cook for writing this article. Steve has worked at a local hockey shop and has helped thousands of people find the right fit for their hockey equipment.
Shopping Online for Shoulder Pads
If you're shopping online we recommend the following stores