You've always loved hockey but your parents didn't enroll you. Now you've got a job, or have moved close to an arena and are finally taking the leap. Good job, you are not alone. I have had people email me who are 50+ years old that are just starting. Below are some tips for you to learn and improve quickly.
Guide for Adults starting hockey
You don't need full equipment to start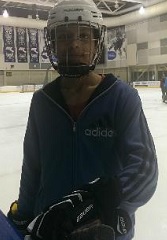 If you just want to give hockey a shot, you don't need to dump your full pay cheque and then some on hockey equipment. All you really need are skates, elbow pads, shin pads, a stick and a helmet. If you look around you could find most items used, or on sale. I recommend a decent helmet, and comfortable skates that fit properly. For more information on what equipment you need visit our hockey equipment guide for adult players
In most adult leagues shoulder pads, a mouth guard, and a neck guard is optional.
You should learn how to skate first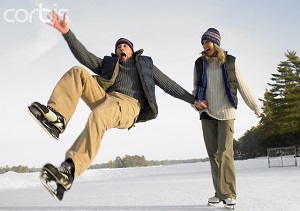 If you want to play hockey, you need to know how to skate, turn and stop. The best way to learn is by getting a lot of ice time and finding someone to teach you. I have some skating videos on my Youtube channel, but I strongly suggest you find skating lessons at an arena nearby.  Look for adult skating lessons, adult hockey lessons, or adult power skating lessons. The lessons will help instill good habits right from the start, and will make your path to becoming a hockey player much easier (and quicker)
Learn to Skate Video Series

How can an adult start playing hockey?
After you've taken some skating lessons I suggest you get as much ice time as you can. This means going to public skating and open hockey sessions (known as stick and puck, shinny, or pick up hockey).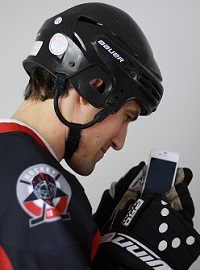 Find the three closest arenas in your area and call them all. To find an arena you can try arena maps. Ask if there are any open ice sessions where the public can skate or play hockey. Public skating is usually about $2-$10 and stick and puck ranges from $5-$15. Your first few sessions will be intimidating, but it's a long path to success and you will improve more and more every time you step on the ice.
Another good tip is to play any type of hockey you can. Play inline, ball hockey, street hockey, shoot pucks in your backyard. All of these things will help you improve
Work on your shooting and stickhandling at home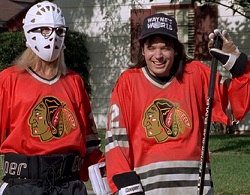 The three biggest skills you need to learn are skating, shooting, and puck control. Skating needs to be done on the ice (some rollerblading doesn't hurt) but stickhandling and shooting can be practiced at home. All you really need is a shooting pad and something to shoot at (a hockey net is a good idea, but anything that stops pucks will work)
How to join a hockey team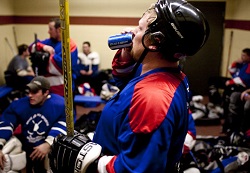 After becoming somewhat comfortable with shooting, skating and stickhandling you will be ready to join a team. The best way to join a team is to ask the guys that you have been playing hockey with. You should be playing pick-up hockey at least once a week, ask the other guys who play pick-up hockey with you if they need an extra guy on their team, or if they know of a team you can join.
If you haven't made any friends at the arena, you could call the local rinks and ask for beginner hockey leagues. You can usually just sign up, pay and play, but it will be more fun if you know a few guys on the team (that's why I recommend playing a lot of pick up hockey before you join a team)
If you are in Canada you can use the CARHA hockey finder. CARHA is the leader in adult rec hockey in Canada. Fill in your information and they will find a spot for you to play! How cool is that.
You can also try the hockey community to find pick-up games in your area. It's popular in some cities and is worth a shot.
If you're looking for a great online community you can join us in r/hockeyplayers on Reddit.
Learn to Play Hockey at home – Join The Pond for easy to follow video courses, challenges, and a private social group to quickly improve your hockey skills at home
That's it for now, if you have any suggestions or tips of your own let me know in the comments section below