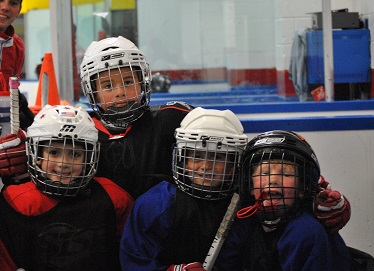 Congratulations, you are about to begin playing the most exciting sport on earth, this will be a long, challenging and rewarding path for you. My name is Jeremy and I am here to make your journey to hockey as easy and straightforward as possible. This website will serve as a guide for you to go from clueless rookie to respectable novice. In each article I will include tips for parents starting their kids in hockey, and adults taking up hockey for the first time. Let's get started on how to start playing hockey
How to Start a Child in Hockey
Starting a child in hockey is fairly easy. Most communities have a minor hockey association that divides children first by age level, and then by skill level. A child at any skill level and almost any age can play house league hockey, as long as they have the proper equipment and pay their registration fee on time.
Search for your town name and then add "minor hockey" and you should find your towns minor hockey association.
What if You're not Sure if Your Child is Ready For Hockey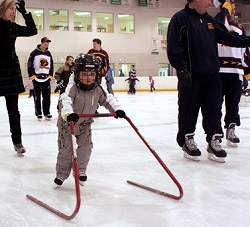 House league hockey is very welcoming, they accept any skill level of player (although the more skilled players usually play travel / rep hockey). If you would like to get your child some experience before starting them in hockey you can sign them up for a number of different programs.
Learn to skate – Programs set up by local arenas and skating associations
Power Skating – Usually set up through minor hockey organizations
Stick and Puck sessions – Usually set up through the local arenas
Mom and Tots – Set up through the local arenas
Public Skating – Anyone can show up and skate
Outdoor rinks – If it's cold enough where you live
Road Hockey – Get a net and some sticks so your kids can play hockey in the driveway
Equipment needed for a child to play on a hockey team
We go into more detail in our hockey equipment guide for kids, but here is the requirements for children to play hockey.
$740 is an average $280 is the starting price. Thanks to CBC for the sweet picture below
Jock (or jill for girls)
Shin pads
Hockey socks
Hockey Pants
Skates
Shoulder Pads
Elbow Pads
Neck Guard
Helmet
Mouth Guard
Jersey for practice
Hockey stick
If you're child just wants to play recreational hockey (at an out door hockey arena, or during stick and puck sessions at the arena) less equipment is required. For outdoor hockey all you really need is skates, a helmet and a stick (although new players should wear elbow pads and shin pads for more protection)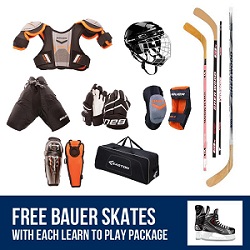 If you are looking for a great deal on hockey equipment  Pure Hockey has a youth hockey starter kit that is currently only $179.99! The kit includes almost everything you need
Quick tips for parents starting their children in hockey
Make sure their equipment is comfortable and fits them properly
Save money by buying equipment used, you can ask parents of older players or look online
The kids don't need $200 hockey sticks, focus on skill development
Kids grow out of their equipment quickly, so don't spend too much on something that will need to be replaced